Visual Sociology Laboratory
The Visual Sociology Laboratory of the University of Genoa is an experimental space born from the need to use photography and audiovisuals as languages for the dissemination of the results of social research, and the still camera and video camera as investigation tools.
www.laboratoriosociologiavisuale.it
Emanuela Abbatecola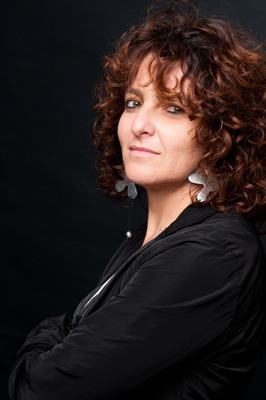 Sociologist, associate professor and editor in chief of AG–AboutGender, International Journal on Gender Studies (www.aboutgender.unige.it/ojs), teaches sociology of labour at DISFOR, School of Social Sciences of the University of Genoa.
Her research activities mainly concern labour, migrations, trade and discrimination in a gender perspective, topics on which she is working on national and European research projects and she has written numerous papers.
Since 2008 she has been an active part of the Visual Sociology Laboratory of the University of Genoa (www.laboratoriosociologiavisuale.it), under the scope of which, together with her colleagues  Luisa Stagi and Luca Queirolo, a documentary entitled Yo non me complico, about homophobia, migrant homosexuality and transgender, with the direction of Alessandro Diaco (2010), and an interactive exhibition on women in male professions, with the title Lady Truck. Women at work! (2011).
Associazione Culturale 36° fotogramma
The 36° Fotogramma Cultural Association was born in Genoa in 1974.
The activity of the association consists of the organisation of collective shows, personal shows, participation in competitions, drawing up of books of photographs, organisation of photography courses and workshops.
Particular consideration is paid to participation in cultural events in Italy in collaboration with public bodies and institutions such as the Municipality and University of Genoa.
Among the most recent activities, one recalls participation on setting up the Festival del Bosco, (Festival of the wood) promoted by the Liguria Regional Authority in collaboration with the European Union (2008); the photographic activity alongside the Festival della Poesia (Festival of Poetry) since 2004 and that under the scope of the jazz festival Giovani in Jazz, in collaboration with the association Jazz Lighthouse and Sestri Jazz (since 2008); the project on the theme of  astronomic photography carried out with the Cassini High School in Genoa (2011); organisation of "Immagin'Azione" at the Sant'Agostino museum in Genoa (2011); which witnessed the  participation of photographers of international repute in seminars and shows in multi-vision; collaboration with the  Festival della Scienza (Festival of Science) in 2012 and with Palazzo Ducale under the scope of La Storia in Piazza (2013).
Via Carloforte, 23 R – Genova
36fotogramma@gmail.com
www.36fotogramma.org
Exhibition Supervisor: Federico Montaldo